work stay & Exhibition
SalomonArts Gallery New York City
Topic Cinema, first prints with cinema film containers
Journey & Exhibition
OneArtSpace & SalomonArts NYC / Washington DC
first works in molden steel
work stay Haria / Lanzarote / Canary Islands
Work stay | New York City

Scholarship New York City

EU Scholarship in Lanzarote, Spain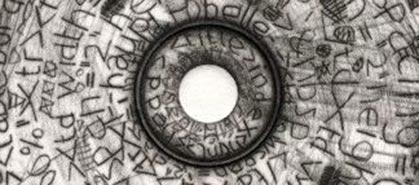 There was the desire to turn the signs of out time into something visible, like HTML, by traditional means. To point out man's dependency on technology and computer languages intrigues me, as I use both in my everyday life. My initial inspiration was a HTML code for my first website about charts within charts.
Educational Journeys to Crimea and the Ukraine
Seminars in Salzburg: Artistic Essentials, Painting, Graphic Arts
Close co-operation with Obergrabenpresse Dresden
First sculptures, ceramic, later zinc wire with Japanese paper
Birth of Daughter Pina Li
Educational Journey to Crete, Greece
Study of Art Therapy in Hamburg with Frances Dupierry, Performance Artist from South Africa
First circular objects with corrugated cardboard and Japanese paper
Diary Pages-ink drawings, largely black and white, approx. 300 x 200, also 400 x 300 mm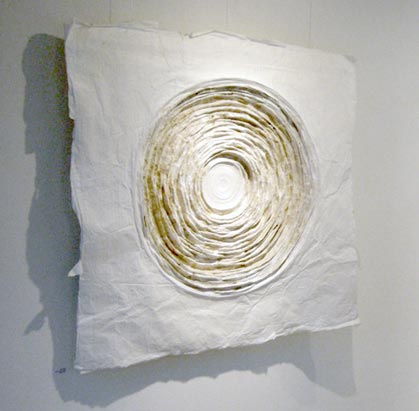 ... upon a dream about abandoning rectangular pictures, followed by the reduction of colour and the search of depicting "nothingness". How to reduce everything by all means of visual arts, so that "nothingness" becomes tangible. The centre of my works is important to me. It should appear lucid, allowing the viewer to transcend through the picture. The square and the circle form a relationship. Between the centre and the empty spaces a landscape is generated, appearing tranquil or animated. Everything depicts the continuity of nature, man and space. Time is integrated as a new element. Beside all structures that illustrate certain states, the perception of time and space is a constant issue for me, as are their interactions and perpetual dialogues.
Birth, Illness and Death of her first daughter Clara
Diploma Course in Graphic Design at Hochschule für Gestaltung, Berlin
Simultaneously: Courses in Painting and Sketching with Agathe Boettger, Christa Schuhmann, Wulff Sailer, Wolfgang Leber, Manfred Schubert
Study in Painting and Graphic Arts at HfBK Dresden,
Prof. Claus Weidensdorfer
First landscape studies around the city of Dresden
At an exhibition, Süss is acquainted with the works of Eberhard Göschel, an artist who has influenced her to this day
Hochschule für Wirtschaft und Technik, Berlin
Seminars for creation and typography
Semperschulen, Dresden
communication design, creation, graphics, typography
Sächsisches Kultusministerium Dresden
development of the professional curriculum for typography,
Adviser
Fachhochschule Salzburg
Seminars in creation and creativity technologies
Akademie für Gestaltung der HWK, Dresden
Seminars to creation basics, typography
EU-Kongress Brüssel
International symposium to the architecture philosophy
of César Manrique
Kunstschule Mattsee bei Salzburg
Investigations and interpretations archeologics and typographics signs in Hallein culture (early Iron Age)